A Home for Your Best Content
Quickly find, organize, and share your most important content

Declutter, organize, and find exactly what you're looking for with powerful search and tagging features.

Show your team what they need and don't worry about the rest.

Collaborate easily and move fast, however near or far your teammates may be.
Welcome to clutter-free content
Achieve the content zen you've always wanted with an intuitive, clean way to organize your company's resources. This isn't just another storage solution. It's a place to single out only the best, most relevant, and up-to-date content your team can use to get the job done.
Showcase your most important content from any location.
Eliminate duplicates and old versions of files.
Easily sort with tags, filters, and badges.

Find anything in seconds
Tracking things down can be distracting and stressful, stay in the flow with a better search experience. Shelf helps you find things quickly and painlessly through in-document search and filters.
Search inside of PDFs, Word docs, presentations, Google docs, and even inside JPG, PNG, and GIF images.
Browse by using over 8 different Filters, including; tags, dates, document type, added by and source.
Advanced search is like having Google for your company's information.

Curate and effortlessly share
Today's teams need to get things done, no matter their location or time zone. Shelf helps distributed teams share and discuss content without the need for email threads, phone calls, and delays.
Get up and running in no time with Shelf's intuitive interface and simple setup.
Add people to groups to share only content that's relevant to them.
Comment directly on each resource and get notified when others reply.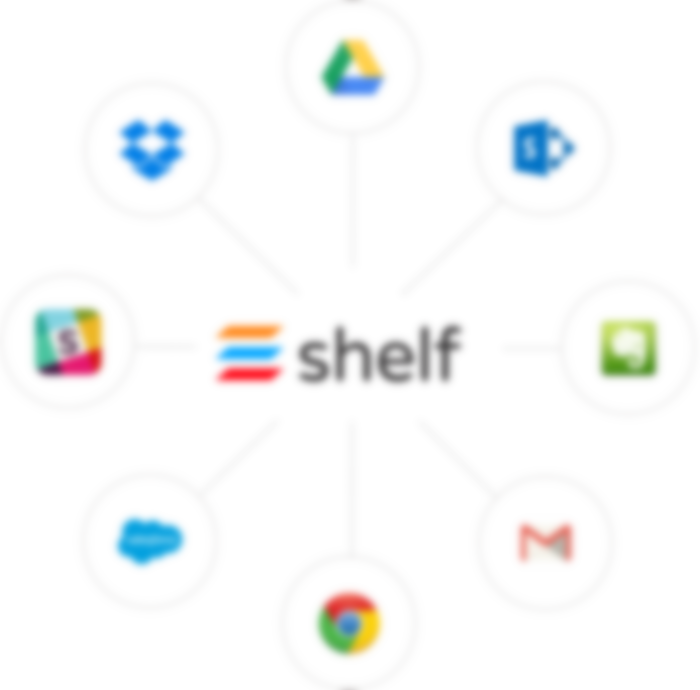 Sync files, links, and emails from anywhere
Your team can save and work on their content wherever they want. When it's ready to share, sync it from apps like Box, Drive, and Dropbox, or upload files directly from your hard drive. You can even clip email and web content to share with the team. No matter where it came from, find it in Shelf.
Powerful content analytics
Admin content metrics help you get insights into how your content is being used. Learn how your team is searching for, using, and contributing to your content library with Shelf's analytics.
Search Analytics - get insights into what people are searching for in your Shelf.
Content Analytics - see what content, folders and groups are most popular.
Platform Usage Analytics - understand who is contributing and engaging with your content.
Access Shelf from any device
Our application is responsive and works on iOS, Android, Chrome, Firefox, Safari, and Explorer. Accessing Shelf with your phone or tablet is easy.
Enterprise-level security
Single Sign-On (SSO)
Data backup and recovery
Role-based permissions
Secure hosting
AES encryption
See how Shelf can impact your team